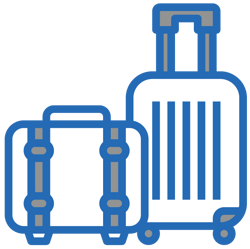 Pack Your Bags: The Best Lab Jobs You Never Knew You Wanted
Download our FREE EBOOK
Pro tips, tricks, and hacks for success on your next temporary or temp-to-perm lab job
Temporary and temp-to-perm lab positions are an excellent way for pathologists' assistants and histotechs to grow their careers and see the country, one contract at a time.
As a leading pathology and histology recruiter, Nicklas Medical Staffing knows firsthand one (not-so-big) secret that we share with all of our PAs and histotechs: every contract lab staffing assignment can be an amazing opportunity.
Go into the process with these tips and tricks to life on the road to optimize your time on assignment and ensure you don't miss out on the best lab jobs you never knew you wanted.
Your Guide for the Best Lab Job Experience
Enjoy Your Time on the Road and Grow Your Career
Plan Ahead for Success at Your Next Lab Job
Nicklas Medical Staffing's FREE EBOOK offers insight on several critical components, including:
Location Choice
Consider factors beyond warm temperatures alone
Multi-Month Contract
Evaluate opportunities offered by multi-month temporary lab jobs
Packing Matters
What you bring is important - know how to pack light and still pack right